As we come to the end of 2006, we'd like to share some of the exciting events and activities that we have enjoyed as a company during the last year. Last year was a banner year for the company in the 21 years that we have been in business. We will eclipse that this year and we are forecasting an even better year for 2007. You can see relevant information breakdowns for Services, Industries and Sales in the following Figures One, Two and Three, respectively:

Figure One: Services Breakdown
Figure Two: Top Industries Breakdown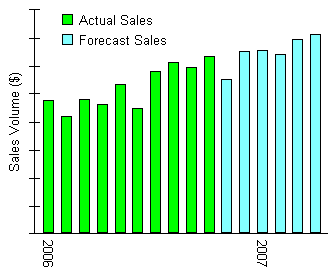 Figure Three: Sales Graph
We attribute our success largely to the strong relationships that we enjoy with our customers, which have been developed by our excellent staff and bolstered through the acquisition of several new pieces of equipment. This allows us to grow with our customers as their demand for additional capacity and capabilities increases. Some of the customer trends that we have seen in the past year have included an increase in lead-free production, more ball grid arrays and 0402 component packages. There has been an increased emphasis on product prototyping for design qualification prior to production and customers have been moving more towards implementing functional and electrical testing as they require ship-to-stock certification of their products.
On the purchasing side, we have developed strategic relationships with two overseas suppliers in China for our printed circuit board fabrications, which has allowed us to cut our board fabrication costs by as much as half for production volumes. We will continue to work with our domestic board fabrication suppliers, especially those that supply us with quick turn prototypes who have been invaluable in this area.
Some additional highlights from this past year (please refer to the applicable press release for further information on each item) that we would like to illustrate include:
New website rollout with the help of Unifusion Design Studios
Completion of Workplace Systems Workstation Installations
Implementation of the uniPoint Quality Toolkit Software
Acquisition of a Mirtec MV-2HL Automatic Optical Inspection System
Addition of a fifth Contact Systems 3AVX pick and place machine
In the upcoming year for 2007, we will participate in at least four tradeshows (two national and two local). We are currently looking into adding additional equipment and tooling to supplement our current inventory and will add to our staff to accommodate the increase in sales so that we can maintain or elevate the level of communication, responsiveness and flexibility that we are known for. Our new website was designed in part to allow for better visibility and ease of access to company information. We expect to use and come to rely on the website much more in order to facilitate communication to the electronics community.
The President's Letter is an excellent way to stay connected and communicate with customers, suppliers and the community with respect to activities at the company. We will update the President's Letter on a quarterly basis, so please visit this page often for the latest information on the company. Our doors are always open, so please feel free to contact us if you have any questions regarding the President's Letter.